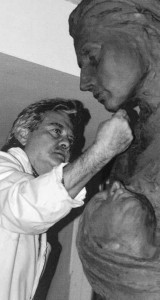 Salvo Bennardello is an italian artist engaged in a practice which crosses Art through its most classical forms: Sculpture, Drawing and Painting, up to searching for it in Design.
His research evolves continuously between subjects often distant from each other, expressed by the working of materials of various kinds, where he manages to transfer his emotions brilliantly, making the vehicle of his message.
In the first part of a career spanning four decades, Salvo's artistic production has focused primarily on themes of sacred subjects: there are numerous sculptural interventions and designs for the furniture in various churches and sacred places.
At the same time pursuing an artistic activity that involves him in the production, design and management of public arts, public art installations in which Salvo deals with, as well as the realization of sculptural complexes, also the design and construction of the contextual elements in which these works are placed.
This momentum toward what can be defined as activities of exterior design, leads Salvo to be interested more and more in design, evolving and improving in recent years that additional path which in the past led Salvo to start as a decorator.
With his experience as an artist, in an original way, Salvo identifies and transfuses artistic elements and nuances in his design works, giving them great personality.